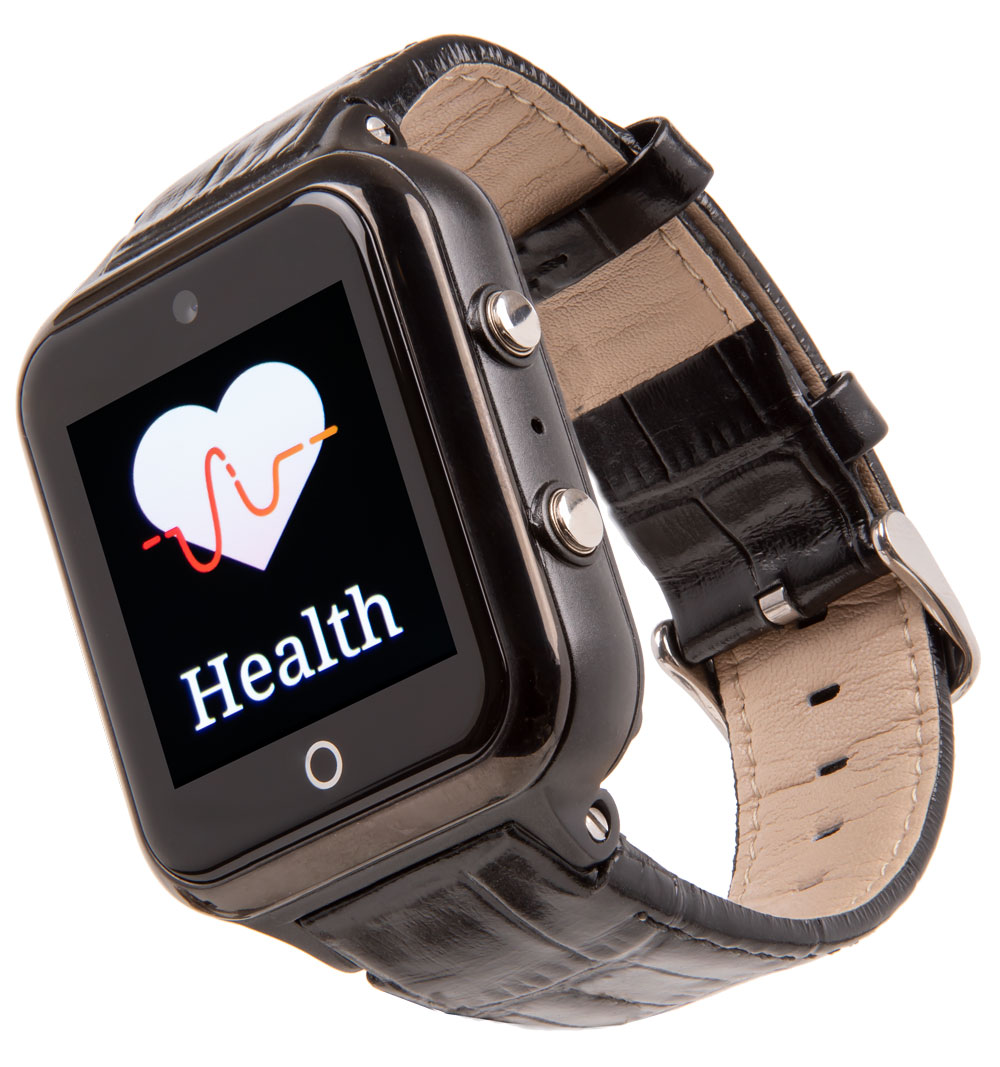 This is a smart watch with a difference. Not only do you get the security of a personal alarm with 2-way talk to our Monitoring Centre team, the watch also monitors your vital signs including heartbeat, blood pressure and blood oxygen level.
Red panic button
That can be used for both your physical security or mental health. This is on the side of the watch and is the bottom button.
SOS sent notification
Press the red panic button until the watch beeps and shows SOS on the screen. This tells you that someone is about to be notified and GPSOS will respond to ensure your needs are met.
LED screen
Press the top button (on/off) lightly to display the time. Swipe left and tap the screen to view your vital signs, heartbeat, blood pressure and blood oxygen.
Vital signs can be monitored
GPSOS can monitor your heartbeat, blood pressure and blood oxygen within ranges set by your GP. If these vital signs go outside the ranges set it triggers an alarm to GPSOS.
Your GP can also have encrypted access to this data for up to 60 days. The data is stored in the watch, not with GPSOS on a server, so your personal data storage is safe.
24 hour battery life
The battery is charged easily with the magnetised USB cable supplied.
Low battery notification
The watch will vibrate and show low battery on the LED screen when the battery gets to below 30%. You and the monitoring station are both alerted by this.
It takes approximately an hour to fully charge
The watch will send a message to the monitoring station that it is 'fully charged'. If the monitoring station does not receive a 'fully charged' text within 4 hours then GPSOS will call you to ensure you charge your battery.
Two way communication
You will be able to talk through the pendant to a friendly customer service person 24/7 if you activate the panic button or have fallen. At GPSOS we will continue to talk to you and provide reassurance until help has arrived.
Advanced GPS tracking
If you become lost or have any other emergency you can activate the panic button. When you are in cellphone coverage we will be able to locate you within a radius of 10 meters of your location.
Up to 8 geofences can be created
A geo-fence is an electronic GPS perimeter that sets off an alarm if breached by the watch. If someone is wearing the watch it will automatically notify the monitoring station if the user has left a particular area.
This is especially useful with Alzheimers and Dementia sufferers who can wander off sometimes. We know almost immediately that the person has left the premises and can live track them so we know where they are at all times.
Introductory offer
For a limited time, sign up for a 24-month monitoring contract we will provide you with the watch at a discounted price of $200 (inc GST).
The monitoring fee is $34.98/mth inc GST ($1 per day plus GST). This can be paid in advance monthly or annually.
Add-ons:
The cost for geofencing is an additional $11.50 per month (inc GST).
The cost for vital signs monitoring is an additional $23 per month (inc GST).