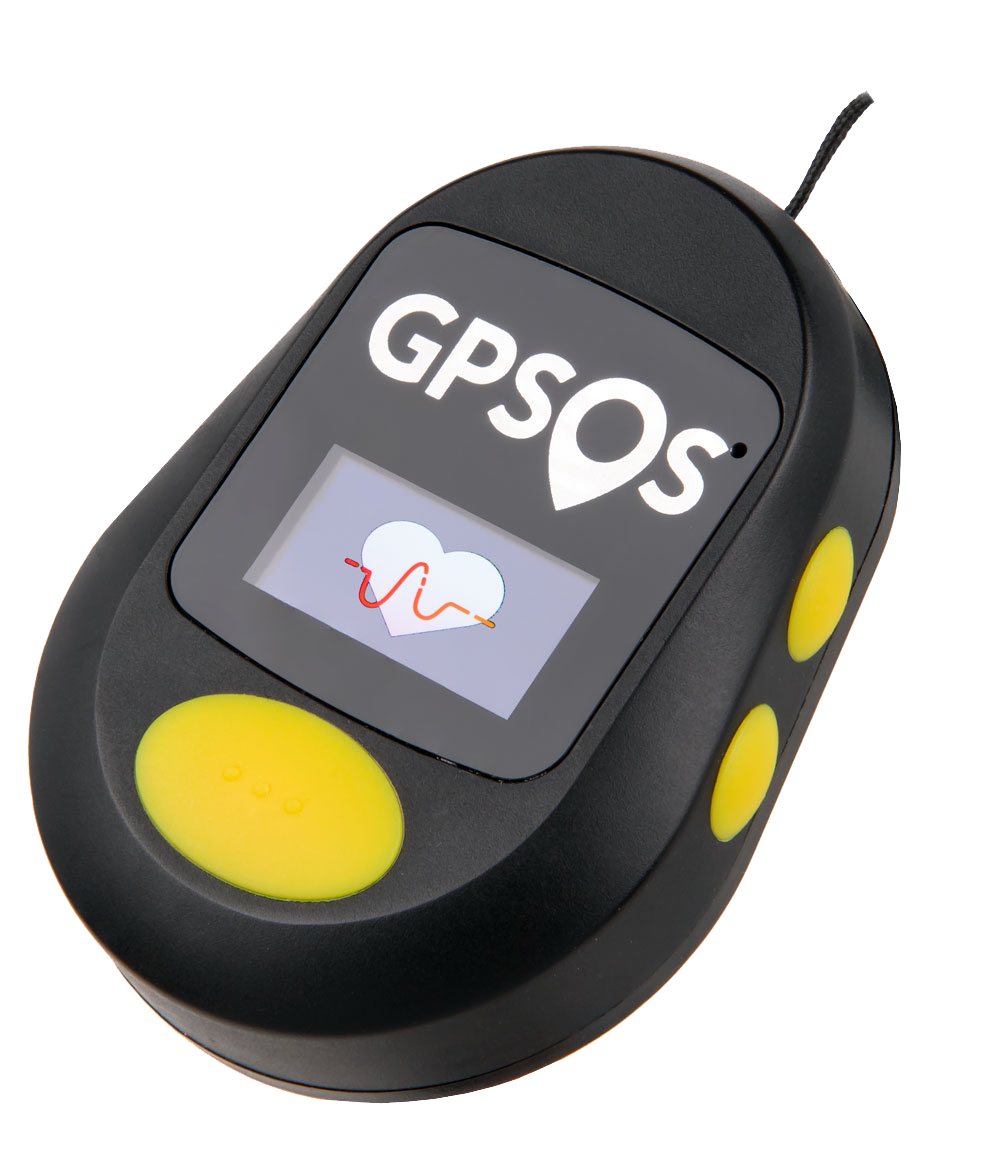 Our compact, lightweight pendant is so easy to wear, you'll barely notice it's there… until you need it of course. The ergonomic design includes large, textured buttons and an LED screen showing the date, time and battery life.
Large yellow panic button
This can be used for both your physical security, or mental health. The button is large and is raised off the pendant to ensure the user can find and press the button easily. It has bumps on the button so it is easily distinguished for people with vision impairments.
SOS sent notification
Press the big yellow button until you feel the pendant vibrate and SOS show on the screen. You know that someone is about to be notified and GPSOS will be able to respond to ensure your needs are met.
LED screen
Displays the time, date and percentage of battery remaining.
Two day plus battery life.
The battery is charged easily with the magnetised docking station. The pendant fits easily into the docking station and takes approximately an hour to charge fully. The pendant will show on the LED screen when it is fully charged.
Low battery notification
The watch will vibrate and show low battery on the LED screen when the battery gets to below 30%. You and the monitoring station are both alerted by this.
When the pendant is fully charged it will send a 'fully charged' text to the monitoring station
GPSOS knows when the pendant is 100% charged. If the monitoring station does not receive a 'fully charged' text within eight hours of allow battery message, GPSOS will call you so you charge your battery.
Choose for the pendant to ring or be on silent mode
If you are living alone, are an older person, or a lone worker you can choose if your pendant rings like a phone or silent when you activate it.
For example, if you are a lone worker and do not want anyone to know if you trigger the alarm, you can press the button and it will not ring loudly but will notify the monitoring station of your need for assistance. GPSOS will pick up the call, listen and continue to stay silent if the situation requires it. Your safety is important to us.

Excellent fall detection
If you fall and you can't set the panic button off yourself the pendant will automatically trigger the alarm. This gives you peace of mind that someone knows that you have fallen as soon as you do fall. A quick response can make a big difference.
Two way communication
You will be able to talk through the pendant to a friendly customer service person 24/7 if you activate the panic button or have fallen. At GPSOS we will continue to talk to you and provide re-assurance until help has arrived.
Advanced GPS tracking
If you become lost or have any other emergency you can activate the panic button. When you are in cellphone coverage we will be able to locate you within a radius of 10 meters of your location.
Up to 8 geofences can be created
A geo-fence is an electronic GPS perimeter that sets off an alarm if breached by the pendant. If someone is wearing the pendant it will automatically notify the monitoring station if the user has left a particular area.
This is especially useful with Alzheimers and Dementia sufferers who can wander off sometimes. We know almost immediately that the person has left the premises and can live track them, knowing where they are at all times.
Introductory offer
For a limited time if you sign up for a 24 month monitoring contract we will provide you with the pendant free of charge.
The monitoring fee is $1 per day (plus GST). This can be paid in advance fortnightly or monthly.
The cost for geofencing is an additional $10 per month (plus GST).
Click here for your FREE pendant.